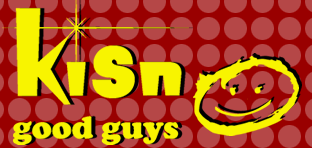 Listen on the Internet - ALL Day ! (Just Click above)
KISN cares when it counts!
Snippets of airchecks, jingles, promos and such from at one time the leading powerhouse radio station in the Northwest The Mighty 91wonderful KISN!
KISN - WIFE - KOIL Jingles File # 1
G Michael McKay (Tom Brooks) Aircheck File #2
(Above sometime in 1971-1972. I was 17-18. I can't believe they even had actually paid me money - just out of radio school) -
KISN - WIFE - KOIL FCC Announcement File # 3
** The above partial announcement was required to played at certain times - Can you imagine this being played during "Drive time" ! The story I heard was an audition was done on ALL Star Station announcers - they picked the fastest reader -- Bobby Noonan won from KISN in Portland
Dinner with Burden - Hatfield - Gordon B. McLendon sometime in 1966-67 File # 4
Don;t know any of the details of the above dinner with Burden - Shepherd - Hatfield - McLendon and others..
G Michael McKay - 1973